Sherpa Adventure Gear Factory Visit with Bonnie
Kathmandu - Sherpa Factory
Last month TYF marketing manager visited the Sherpa Adventure Gear HQ and factory located in the heart of Kathmandu, Nepal.
Read on to learn more about Sherpa and their story.
Sherpa Adventure Gear is a brand we have stocked for the last seven years. Sherpa is a small company with a big heart. They stock our shop with well made outdoor gear as well as casual lifestyle products.
I was fortunate enough to visit the Sherpa HQ and factory on my recent visit to Nepal. I spent the day with Compliance & HR Manager Kabita Chaudhari. We discussed Sherpa's mission, their plans on reducing waste produced in the factories both textile and packaging as well as the companies goals on giving Nepali children access to education.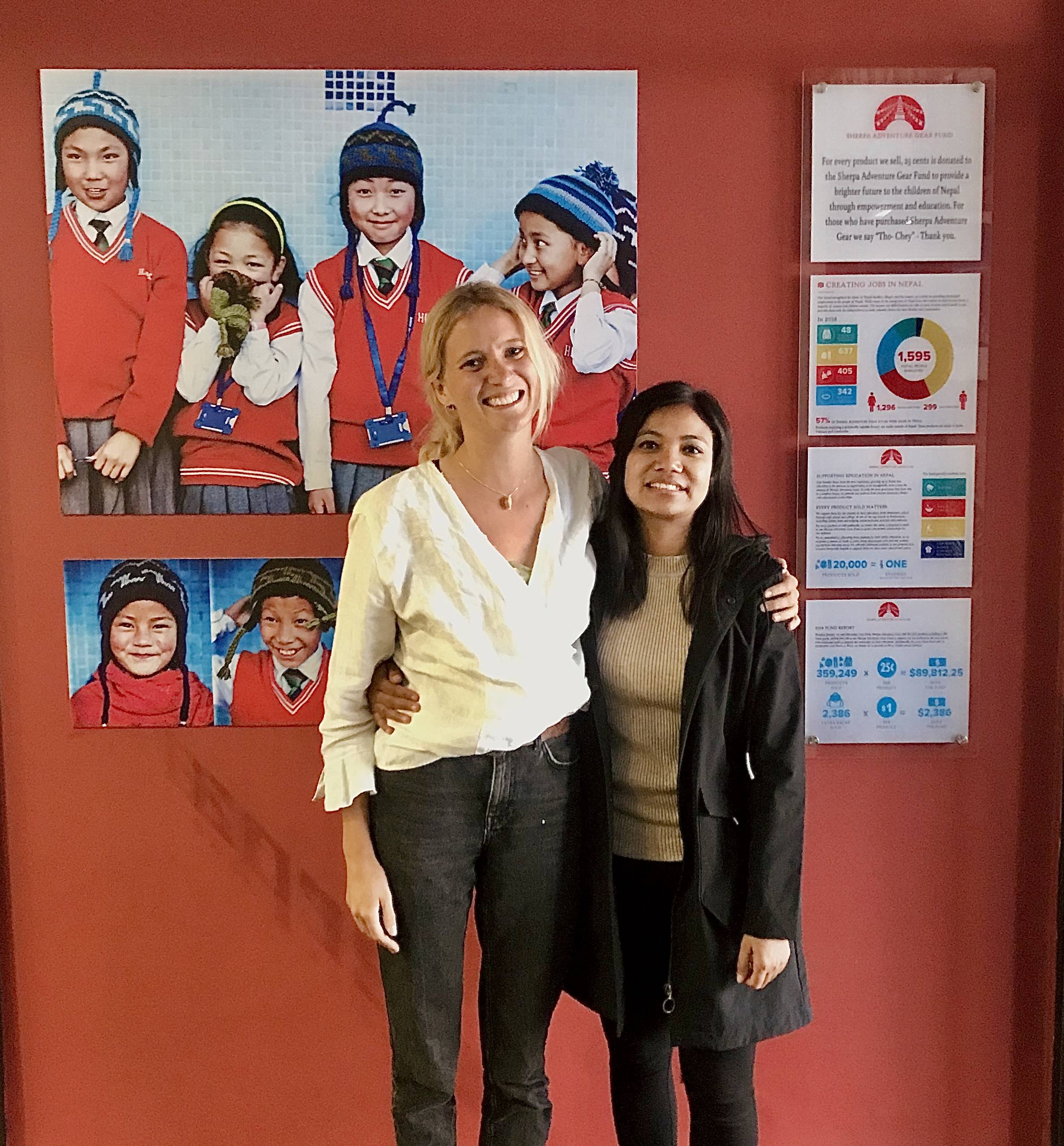 Bonnie and Kabita at Sherpa HQ Kathmandu.
"We're a small brand with a great big heart, and every authentic garment we make—for trekking, travelling and exploring the world— reflects our Himalayan homeland. Whether summiting an unclimbed peak, trekking a vast savanna or sightseeing in an exotic market, Sherpa creates 4-season gear designed to deliver safety, comfort and style. We believe the journey of life is the greatest adventure of all."

Kabita said "I spend large amounts of time working with the factories to ensure they meet the Sherpa Standard". Minimum standards include employees having access to clean drinking water, ventilation and a safe and hygienic area to work in. Every factory also now has to have emergency exits in order to prevent a repeat of the catastrophic events in 2015.
After the earthquake many buildings crumbled with the force of the 7.8 magnitude quake. Since many buildings across Nepal did not have emergency exits and thousands of people lost their lives and others were trapped amongst the rubble.
You can see the remains of this heritage listed building that was located directly next door to the knitting factory.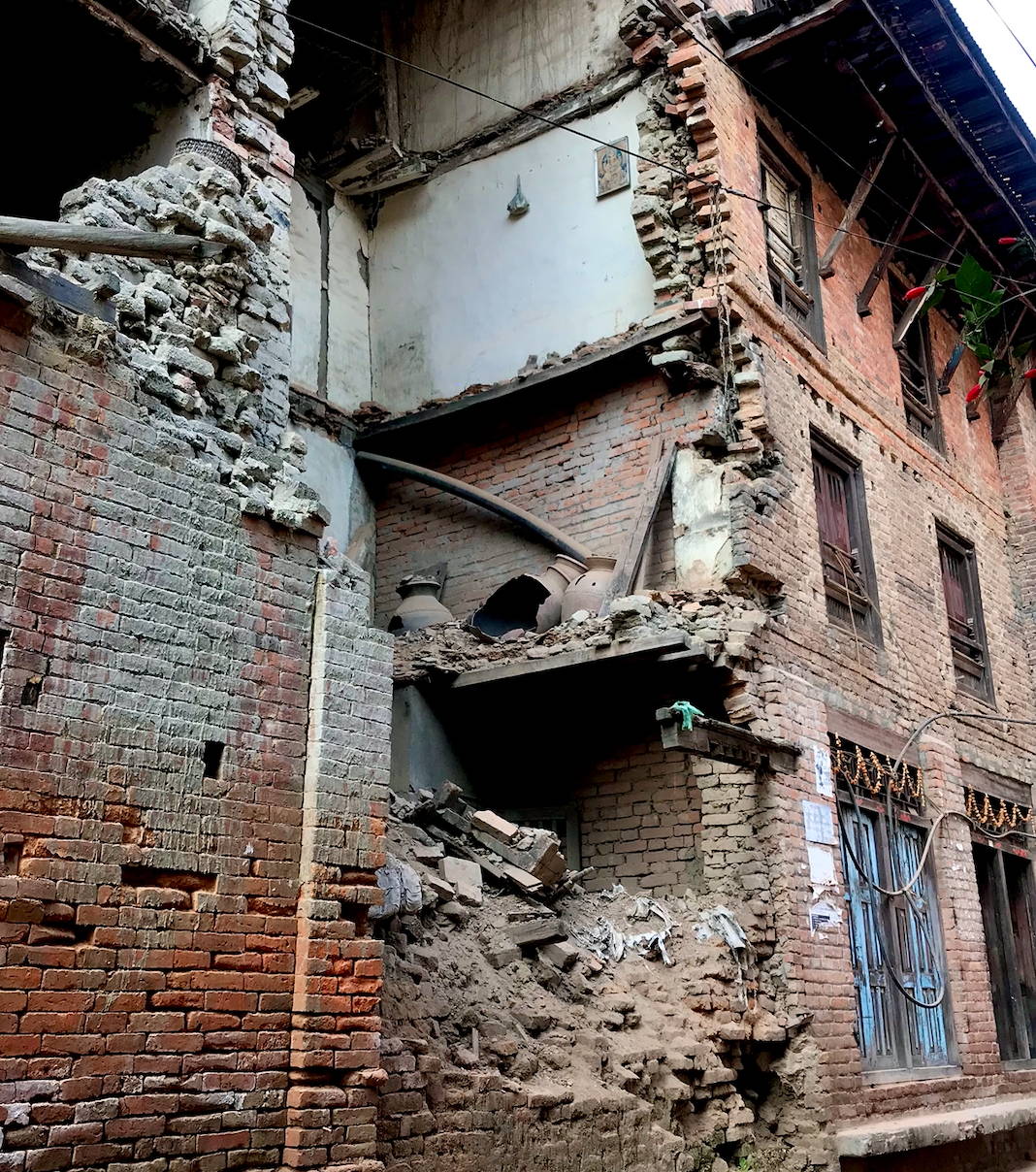 Sherpa aims to offer meaningful employment in Nepal and have created 1,600 jobs. The women who work in these factories are on health plans and are able to work from home if they need to support children, the working hours are 10:00 - 17:00 all staff are offered annual leave and maternity cover. The income these skilled knitters are able to earn provides them with the independence to make valuable choices for their families and communities.

Over 80% of Sherpa's workforce are women.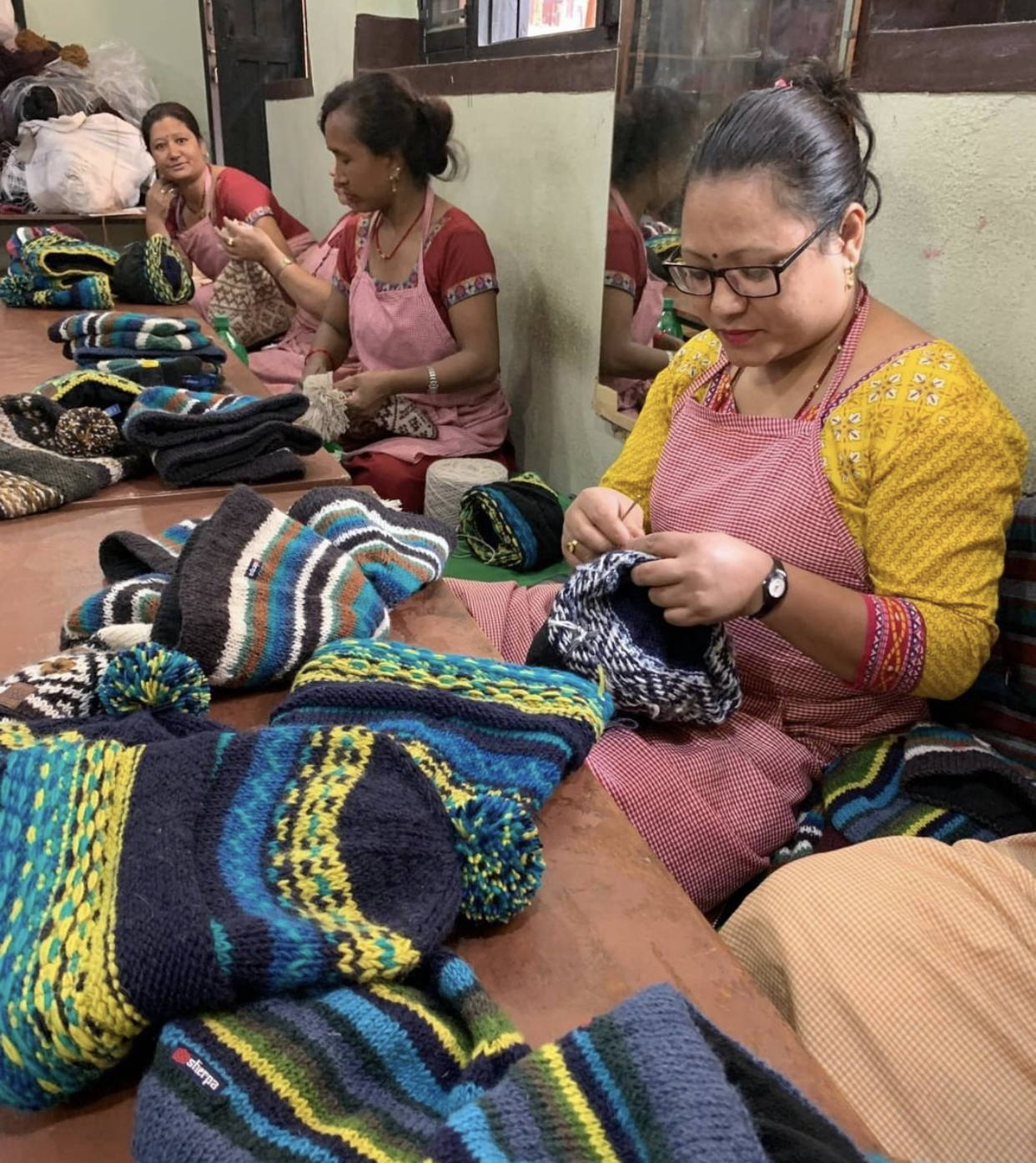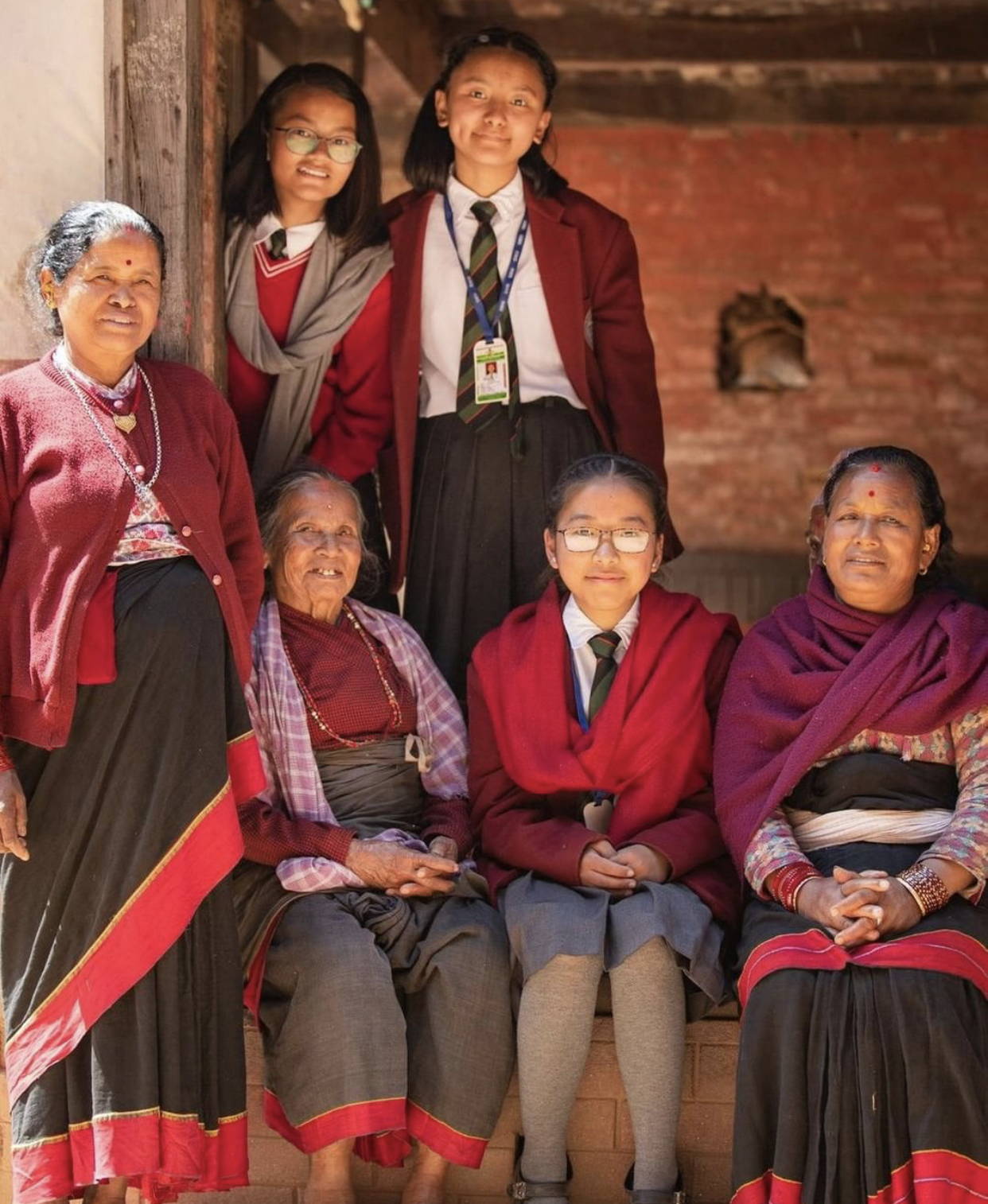 Sherpa not only works at empowering women and eradicating inequality in the workplace but also help support the next generation to find their way to a brighter future. With every product sold a donation is made to the Sherpa Fund granting an education scholarship to children in the remote mountain villages of the Himalayas.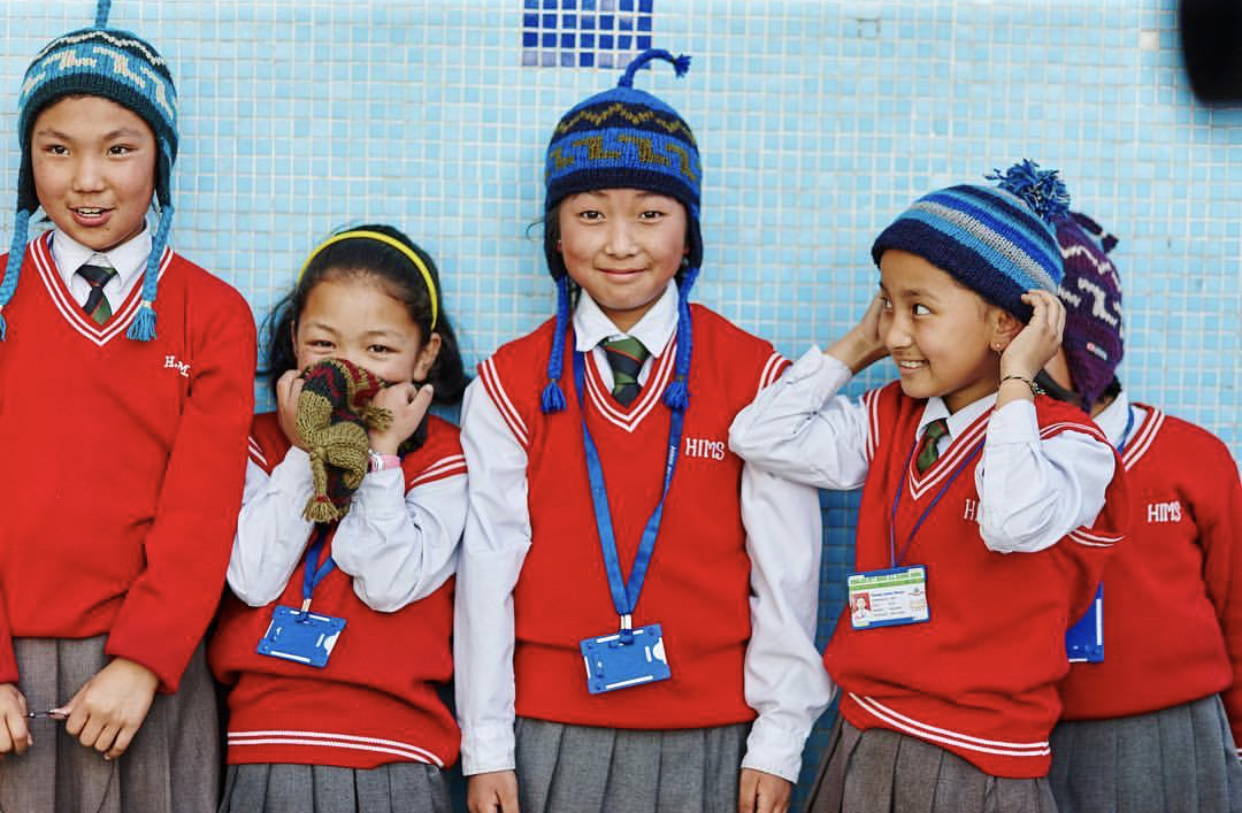 The fund provides students with tuition, food and lodging, extracurricular activities and uniforms alongside school supplies and personal needs. Kabita explained that the team at Sherpa Adventure Gear Fund follow out assessments on the children and their guardians before offering them the scholarship, this allows the team an opportunity to get to know the children that they will be offering the lifetime educational scholarship to.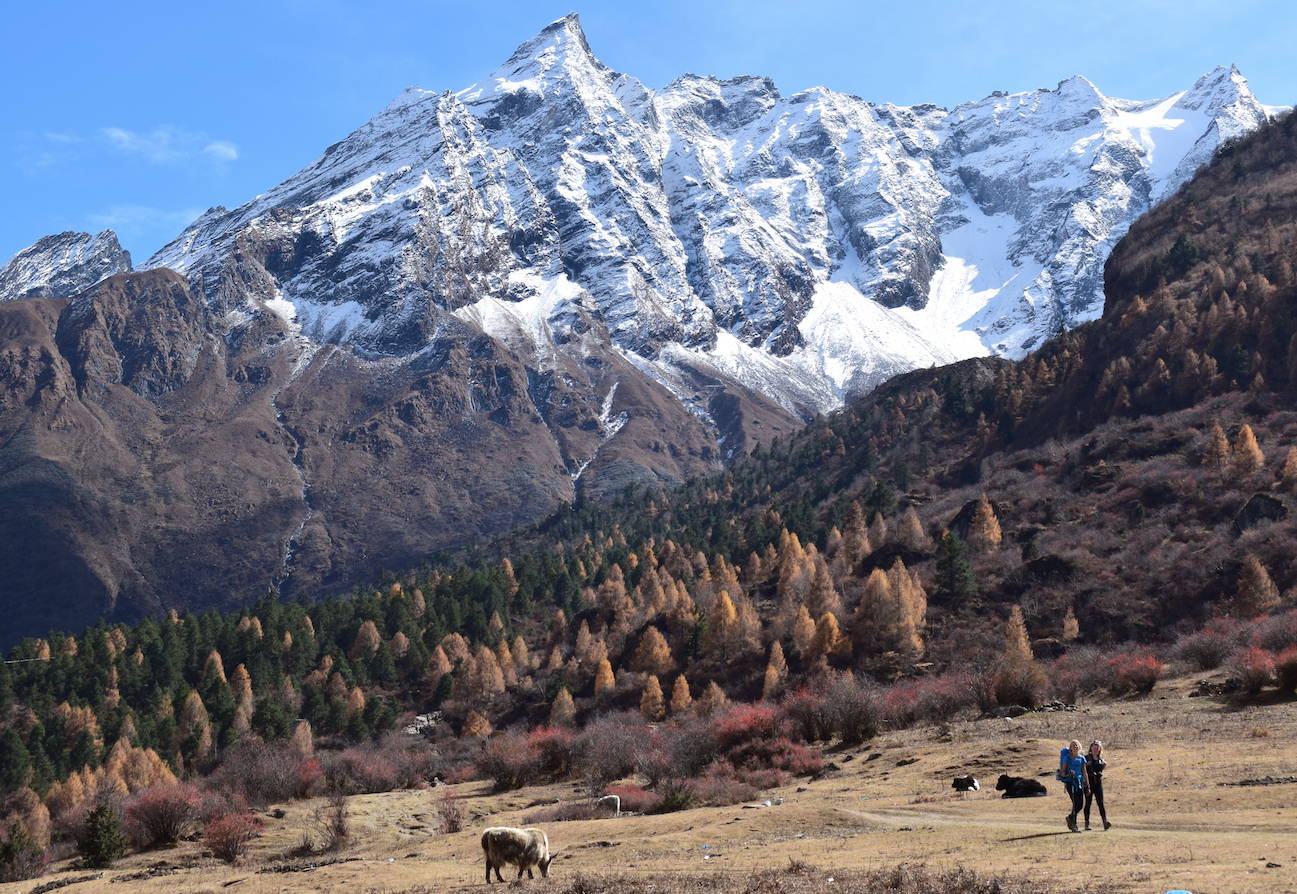 Kabita and I discussed the waste problem across Nepal and how the level of plastic pollution has increased rapidly over the last 20 years particularly in Kathmandu. Kabita said, "We are currently working on waste awareness programs for our employees." We agreed that change comes in the form of education. Despite significant technological advances within the fashion industry, it remains a challenge for many businesses to eradicate single-use plastics and cardboard especially in the packaging process. However, alongside working towards sustainable alternatives, Sherpa Adventure Gear are collaborating with a local recycling centre in the Kathmandu valley called Khaaliesisi. Find out more here to learn how they are tackling the waste problem in Kathmandu.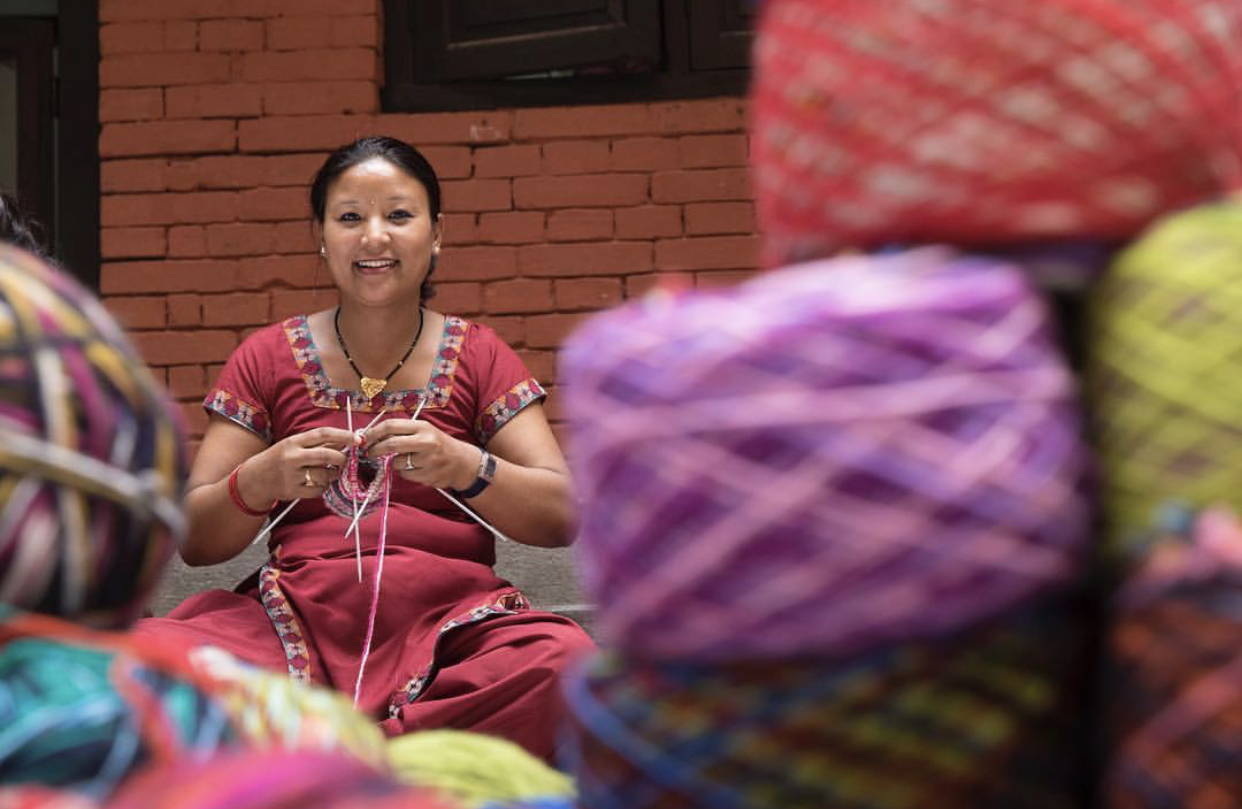 Check out these Boots produced by Sherpa in collaboration with Keen. Consciously constructed using environmentally preferred leather, eco anti-odour and PFC-free water repellency. Every pair of innate boots sold €15 is donated to supporting childhood literacy in Nepal.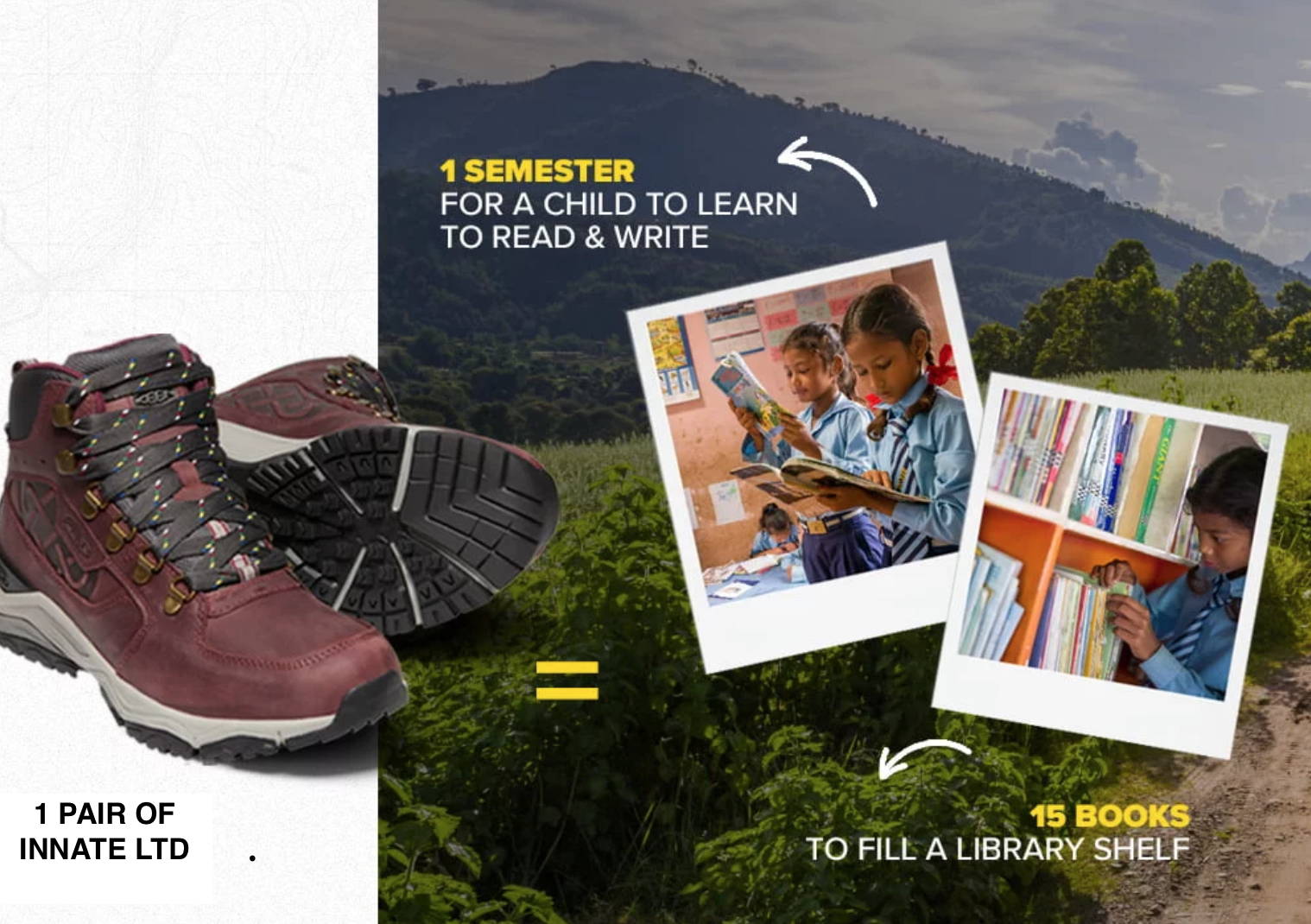 The Innate boots are available in store at 1 High Street in both men and women's sizes.
TYF shop manager, Stacy, has worked tirelessly over the last few years searching for brands to stock in our ethical retail store. As a B Corp, we have strong values around sustainability, equality and impact. We firmly believe that working alongside businesses that share our vision is essential. All of the brands we stock at TYF from Patagonia to WIGWAM socks have been carefully selected.
@ella_richardson_photography
---