Glide upon Pembrokeshire's beautiful rivers in style.

Stand Up Paddleboarding with TYF
Customers can experience this fast-growing and enjoyable sport in stunning locations, using top quality inflatable, stand-up paddle boards (SUPs) to journey the inland waters, guided by our knowledgeable, qualified and fun adventure guides.
The beautiful Pembrokeshire county is rich in opportunities for adventures at any level with stunning river meanders and vibrant wildlife. Whilst the Pembrokeshire roads can take you around the lovely collection of towns and villages, it's only from the rivers that you'll get to experience a range of stunning inland waters, such as the tidal Teifi Gorge, a unique environment where fresh and salt waters meet. The river flows past ancient woodland and wildlife habitats and offers a beautiful break from your busy life. Most of the Daugleddau 'secret waterway' is hidden away from the world, and a SUP is one of the best ways to explore!
The day will be spent journeying to and through one of our beautiful locations using the top quality inflatable Stand Up Paddleboards to navigate the waters. Enjoy the atmosphere, the change in environment, reconnect with nature, enjoy the solitude and time out from the hustle and bustle. Using a variety of locations around Pembrokeshire, this course will give you knowledge of inland waters and SUP handling skills. Together we will plan a river trip suitable for the weather conditions and the group, checking tides, weather forecasting, and water safety.
SUP Paddle Boarding at St. Davids
bobgriffiths057, 17th July 2017
Our guide Matt did a great job of introducing us to SUP.He is very knowledgable and enthusiastic and answered all our questions.
Matt had endless patience with us two old codgers and he gave us a enjoyable experience and introduction to SUP.Pulling the wetsuit off my ankles when we finished was above and beyond the call of duty.

SUP-ing (Stand Up Paddleboarding) is great
Gillian R B, 30th August 2017
My partner signed up for an introductory SUP session and enjoyed every minute. The session was led by Dean who was great. Everyone was standing up by the end of the session. Can't wait to watch him have a go on the sea next time. Really recommend this session to get confidence to take it further.

Dylan & Levi were superb instructors, staff at Tyf offices very friendly & helpful, SUP experience FANTASTIC! We were part of the 1st set of clients on TYF paddle boarding and their openness to customer feedback and input will see this part of their business flourish. Thanks for a great time guys- we'll be back!

Where does TYF go stand up paddleboarding?
We use the Cleddau and Teifi rivers for our SUP adventures.
What equipment do I need?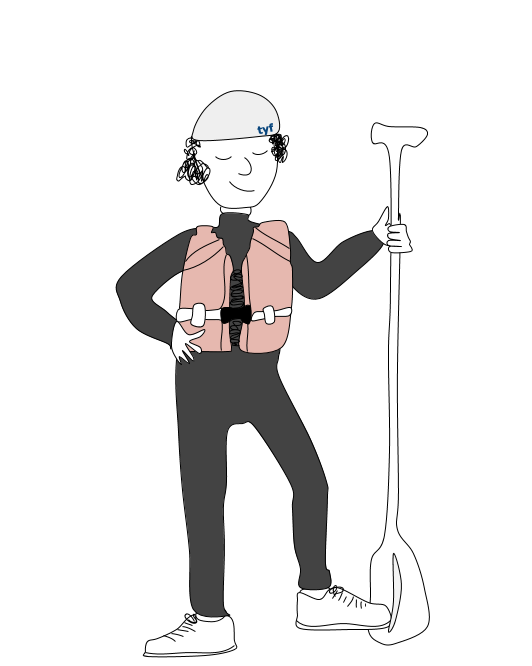 Swimwear (for underneath the wetsuit)