Abseil gently downwards with the sea swirling beneath you, and enjoy a tremendous sense of achievement as you climb back to the top of the cliff.

Pembrokeshire has some of the best climbing locations in the UK, suitable for all abilities. With some of the very best climbing guides in the UK, TYF offers world-class coaching through a range of opportunities for beginners and advanced climbers in equal measure.

Any climbing session with TYF will allow you to get to grips with the compact sandstone sea cliffs of north Pembrokeshire. If you are new to the sport or have clocked up a few hours on a climbing wall or crag then this course will help to put you on the route to learning the basics of safety and technique and allow you to make the most of rock climbing. For more advanced climbing courses please call us on 01437 721 611.

Rock Climbing and Coasteering
daveaS2644GH, 18th August 2017
Had a great timing doing the popular Coasteering with our guide Ella. A short walk with your instructor from St David's to stunning coastline to scramble and jump into the sea with quality wetsuits that make the sea feel like the Mediterranean Your kids will love it. They will adapt the session to what you want to do (high or low jumps) Great fun!
Also had a perfect Rock Climbing session with Matt, who knows his stuff and effortlessly made everyone feel safe and relaxed and made the most out of all the climbs we did. Helpful tips on climbing techniques too. He belayed us climbing so we spent the most time climbing. Nice to see the sea beneath you when you're climbing I've used several companies in the past giving climbing taster sessions to adults and kids and TYF was the best I've seen yet. TYF also provides the kids with proper rock climbing shoes if they don't already have them (other companies don't) so they get the best out of the climbs. You get what you pay for, and having used TYF I really rate then ,

Our climbing sessions typically take place at either St. Davids Head or off the slabs at Porthclais.
What equipment do I need?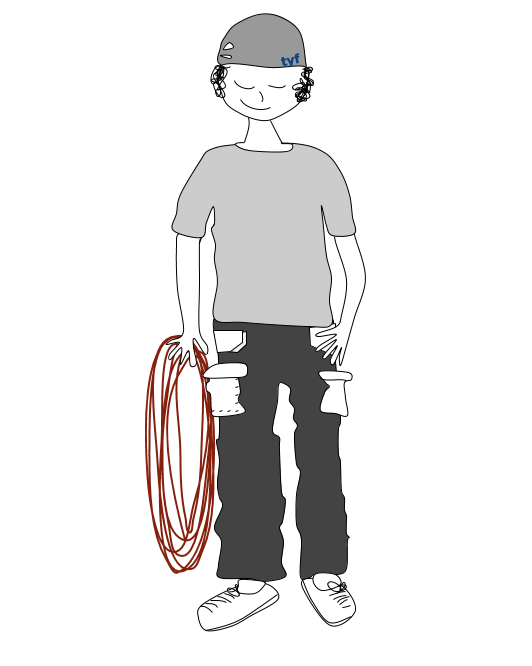 We're sorry our online bookings are currently out of action! To make a booking please call our booking office on 01437 721 611 or drop us an email on play@tyf.com.