Campervans and the Environment: Are They Compatible?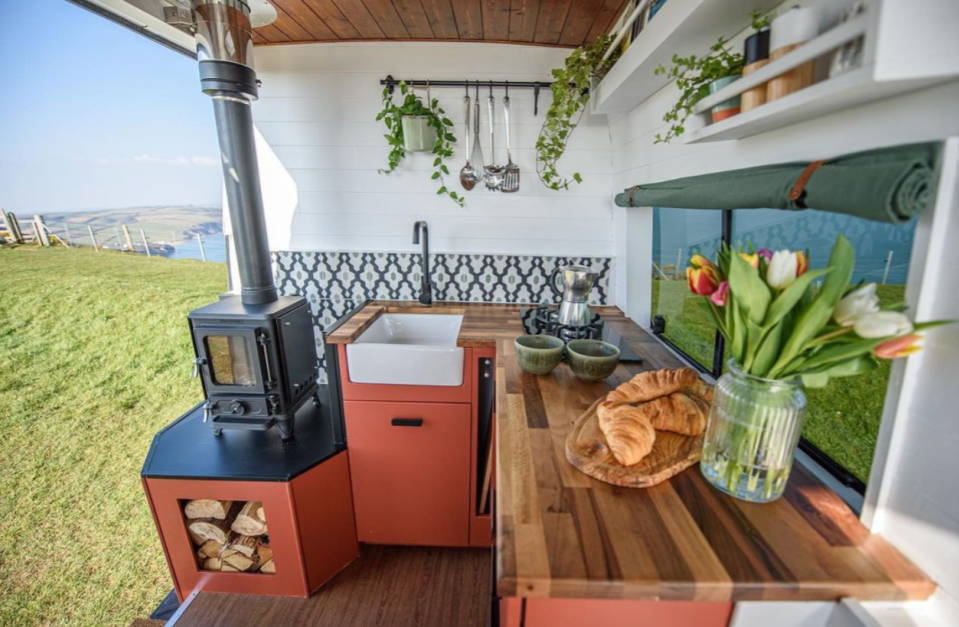 It would be tempting to assume that the Covid-19 pandemic has in some part alleviated the pressures of the growing climate change crisis we face. As the world screeched to a terrifying halt back in March 2020, so too did the planes, international travel and holidays abroad. Foreign holidays were off the menu and the word on the street was (and still is): staycation, staycation, staycation.

2020 was dubbed 'the year of the campervan,' with thousands opting to explore the shores and hills of the UK. My partner and I are part of this growing phenomenon. Lockdown saw us launching our campervan conversion and rental company, Vanfolk, with our first rental vans launching in 2021, as and when restrictions permit.
But how does this affect the environment in reality? Are 200 campervans on the road better than 1 flight for 200 people? Is owning a campervan better than owning a car?
Campervans have long been hailed by outdoor lovers as a way of getting close to nature and exploring wild areas. And those who tend to enjoy these spaces also tend to be more eco-conscious and aware of the growing dangers these places face. So can the two be compatible, or do campervans defeat the point eco-consciousness altogether?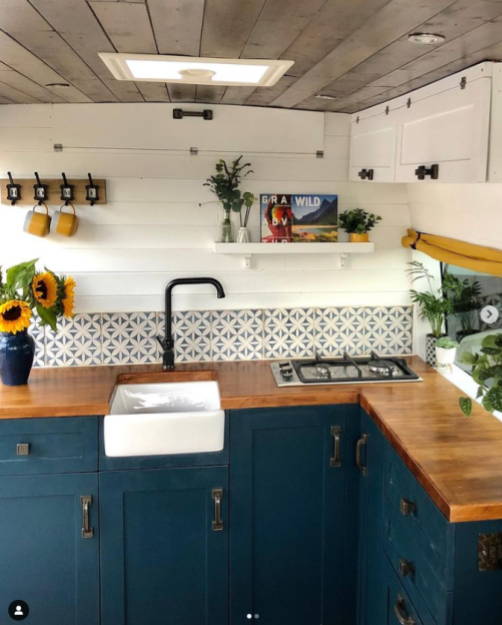 Connecting with Nature
One argument is that campervans open people's eyes to wild places. It goes without saying that the bigger the connection we feel to the natural world, the likelier we are to want to nurture and protect it.
There is an urgent need for humans to rekindle this connection, so that we might collectively try to defend it against the pressures of climate change.
If getting away in a campervan takes you to places that make you feel restored, joyful or calm, the likelihood of wanting to return to them, and therefore protect them, will increase.
Of course, this only works if the 'leave no trace' rule of camping and caravanning is followed. Littering, pouring harsh chemicals into rivers and onto fields and disrespecting local land rules negate the whole argument. But done properly, campervanning can be a sustainable way to holiday. With limited water, gas and electricity, you are forced to only use what you really need. And if the electricity is powered by renewable sources such as solar, even better. You're likely to start thinking more consciously and frugally (always good practice) which we might not do if we were staying in a hotel. You're more likely to use natural products too, instead of harsh chemicals that could damage the space around us. What's more, parking up at a campsite and using it as a base from which to access wild places on foot is also a great way to travel and reduce congestion on the roads.
Cars Vs Vans
OK, so being in a campervan may use less resources, but we can't deny that travelling in a diesel -guzzling van isn't great for the environment. Let's be realistic here and look at some comparisons. A large VW Crafter panel van produces an estimated 35 tons of CO2 in production, with an added 3.5 tons per year or 9,000 miles. For a mid-sized family estate car, an estimated 17 tons of CO2 emissions are released during the production of a mid-sized family estate car, followed by an average 2.4 tons per year or 9,000 miles. Clearly then, the car wins?
Not necessarily. Research suggests that the average Brit upgrades their car every 3 years, meaning it costs more to produce it than it does to actually use it. Keeping a vehicle on the road for longer therefore increases the worth of its production and reduces its embodied energy costs per year. In other words, each year of use a vehicle gets, it relative impact on the environment is reduced due to its increased longevity. Owning a campervan is a great way to ensure this. Emotional attachment to a campervan means we are less likely to trade them in every few years. In fact, camper vans can go on to last 15 – 20 years.
So let's imagine you own a campervan for 15 years. 35 tons for production over 15 years, amounts to 2.3 tons a year. Add 3.5 tons a year for mileage and you get 5.7 tons. Owning 5 cars in 15 years would mean 17 tons for the production of each car, 85 tons in total, or 5.6 tons a year over 15 years. Add the 2.4 tons for mileage on and your final figure is 8 tons per year. Couple this with the fact that people who own a campervan are more likely to holiday in the UK, rather than fly abroad, and it's easy to see the benefits.
Renting a campervan vs other holidays?
OK, so owning one campervan for 15 years is better than owning 5 cars. But if you don't own one, and are simply thinking of renting one, you're still right to consider its impact against other options. Walking, bike-touring or sailing to New York Greta-style are some obviously eco-conscious options, and if they're available to you, then they're worth some definite thought. Assuming however that most people can't hop on a yacht, and for some bike-touring would be their idea of a holiday from hell, we should look at some more mainstream choices. So, what about planes and trains? An 8-hr return train journey from London to Edinburgh would produce around 45kg of Co2 per person, whereas a 2000km flight from London to Marseille and back produces 300kg of Co2 per passenger. A 1000km round trip in a campervan from London to Cornwall produces 350kg of Co2 per vehicle, or 87.5kg per person. The conclusion? Trains win. But it's not always so simple. The pandemic has made public transport anxiety-inducing, lower in supply and expensive. There is no option that doesn't have its downsides (especially at the moment), but we can safely say that a lot of options are still better than flying.
What about electric?
Owning an electric or hybrid car is becoming more and more favourable. Compared to an average car, a small electric vehicle can reduce lifecycle emissions by up to 50%. In the van world however, we're sadly not quite there yet. The infrastructure is still being developed, with most charging points on motorways, and the controversy building on whether campsites should allow charging at electric pitches. The Nissan NV200 is a great-size for a small camper, but is estimated to only have a range of around 120 miles, which, if you're travelling around Cornwall or Scotland (i.e. not on the motorways) might get tricky.
Hopefully in a few years time we'll be converting hybrid and electric vans, and the infrastructure will be there to champion those making this choice. But in the meantime, there is still an argument for a campervan holiday, if used in a respectful way. If it cuts down how much you fly, improves your eco-consciousness in terms of using natural resources, and nurtures your connection to the natural world, the use of campervans could mean good things. As for the diesel dilemma, we're exploring ways to offset the emissions the mileage produces, so if you have any advice, feel free to drop us a line.
Vanfolk are a Bristol-based campervan conversion and rental company. They make and rent handmade, luxury campervans that are designed to feel like home and take you on a lifetime of outdoor adventures. They are advocates of slow, conscious travel and UK adventure, and are passionate about making people understand what we have on our doorstep. Their motto? To enjoy the journey and the destination.
You can hire on of their newly converted vans here, "Rae of Sunshine" even has a wood burner inside to keep you toasty on those chilly spring nights.

Check out the Vanfolk Instagram feed and follow their van conversions progress here.
---