Andy Middleton
9th February 2009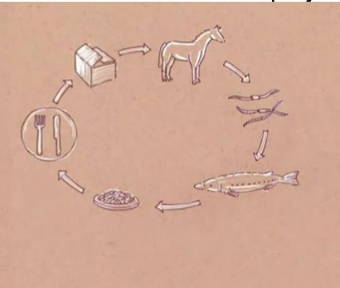 This inspiring project was written up by colleague Michael Pawyln from Exploration Architecture for Sustain Magazine, and is a great example of what can be done with the application of biomimicry, patience and a little imagination:
The Cardboard to Caviar project is an inspired example of how linear wasteful systems can be transformed into closed loop systems that produce no waste and yield much greater productivity. Initiated by Graham Wiles of the Green Business Network, the scheme started as a way of way involving handicapped people in recycling cardboard. The waste material was shredded so that it could be sold to equestrian centres as horse bedding.

The filtration system uses micro-organisms and watercress to clean the water while also producing a food crop.
It was noticed that the growth rates of the fish reduced dramatically in winter due to colder water temperatures so willow has been planted (using fertiliser from the adjacent sewage works) such that a biomass boiler can be used.
An area of land adjacent to the project is being cultivated, partly for the people that work on the project to learn about food but also to produce food for the fish to supplement the diet of worms.
This year the sturgeon should produce their first batch of caviar demonstrating the potential to turn a waste material into a high value product while yielding numerous social, economic and environmental benefits.

---
1 comment
---
---