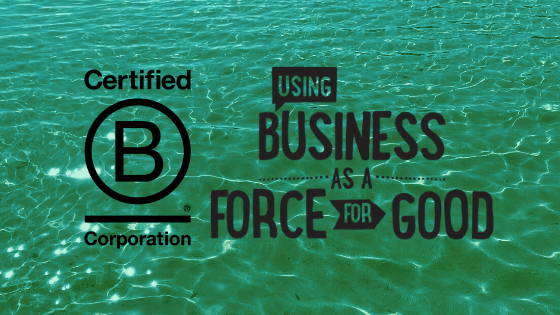 In February I attended a sold-out B Corp event in Bristol hosted by the Future Economy Network. The room buzzed with good energy and was packed full of businesswomen and men intent on using 'business as a force for good'.
This evening was part of a global movement happening within business; the rise in numbers and status of B Corp is part of that.
But what is B Corp? Why is it such a good thing? What issues does it solve? And, most importantly, how do you become one?
As Triodos so eloquently put it in 2018 - "B Corp is to business what Fairtrade is to coffee". B Corps are recognised for their commitment to doing business differently; not only there to create profit, a B Corp also balances social and environmental impact.

A B Corp has voluntarily been through the rigorous Business Impact Assessment (BIA) - a unique tool developed by B Lab. This process requires a business to report on five key areas: governance, workers, community, environment and customers.

Scores are then independently verified by the non-profit B Lab UK before certification is granted.

There are currently over 2500 globally in 50 different countries. In the UK the movement launched in 2015 with 62 founding members (of which TYF is proudly one). There are currently 166 fully certified B Corps in the UK.

Piqued your interest yet?

A few of the top reasons to become a B Corp:

Join a supportive community of driven, successful and profitable businesses that are changing the world for the better. Becoming well connected and working with a clear purpose supports good mental health and keeps businesses on a mission.
The BIA (Business Impact Assessment) is a great free consultancy tool that can be used internally to uncover areas of your business where you could grow, develop and collaborate in more meaningful ways with your community or customers.

Attract and retain top talent as demand (mostly from millennials and Gen Z) for work with meaning and purpose continues to rise. The Deloitte Millennial survey summarises that these generations are asking for businesses to take responsibility and 'balance profit with protecting the planet and helping to solve society's most challenging problems'. In 2019 TYF was awarded The Best Business to Work For by ESC The City who take into account your BIA score.

John Brown, CEO of Don't Cry Wolf maintains that B Corps 'gives a competitive edge'. With businesses becoming increasingly under scrutiny for their ethical and environmental perspectives John believes 'being able to wave the B Corp flag gives you that edge in pitches and procurement procedures.'.


What issues does it solve?
The B Corp certification is part of a growing movement that recognises the responsibility of businesses to work towards environmental and social balance.
The BIA offers a road-map that enables businesses to remain profitable while making fundamental and lasting changes that benefit themselves and the wider community.
Going through the B Corp process answers questions like:
What kind of legal structure can we adopt that supports our care for staff and customers?
- B Corps are required to alter their governance to ensure people, profit and planet are equally cared for.

How do we incorporate all stakeholders (including the environment and communities we're part of) into our business calculations?

- Questions in your BIA guide thinking and enable you to put your environmental policy to the test with this external piece of consultancy.
How do we source investment from funds specifically for ethical or 'green' initiatives?

- Triodos and other ethical investment funds recognise B Corp status as an important indicator of a viable and ethical opportunity.
Do you know this works and who's done it already?

With organisations like The Guardian, The Body Shop, Patagonia, Triodos and TYF paving the way it's becoming a global movement set to define the future of business.

Becoming a B Corp involves successfully completing their Business Impact Assessment (BIA) and having your score verified by BLab UK. Businesses are required to gather documentation that supports the claims they're making.

You also need to meet the legal accountability requirement for B Corp certification. This means that within the governing documents of the business is states that profit is balanced with social and environmental impact. It's also a requirement that board members acknowledge the expanded range of 'stakeholder' interests to include employees, suppliers, the wider society and the environment.

Once these boxes are ticked there is a small fee to pay and a 'Declaration of Interdependence' to sign.



How can TYF support you in this process?
As one of the UK's founding B Corps (initially certified in 2015) TYF lives and breathes all things B Corp and is well versed in the BIA. Our Head of Corporate Programmes Chris Hardy (with TYF since January 2020) will be going through the B Lab administered 'B Leader' training later this spring.

B Leader training enables consultants to take businesses through the BIA and to become certified B Corps. Starting in April TYF will be looking for a small cohort of UK based businesses to support in their successful journey through the BIA.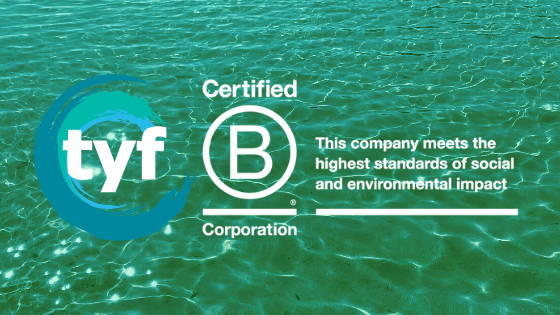 If you're interested in becoming part of the B Corp movement then we'd love to hear from you.
Reach out to Chris at (chris.h@tyf.com) who will be able to answer any questions you might have and to signpost you in the right direction for your next step.

---