We believe that adventure has the power to inspire long lives of curiosity and wellbeing with a close connection to nature.
Our Primary School Programmes are designed with the younger student in mind, some of which are on their first trip away from home.We offer a wide range of courses designed to fit your school's needs as well as to stimulate, educate and inspire primary school pupils.
Through our Adventure programmes we connect with multi-subject outcomes from the KS1 and KS2 syllabus ensuring that your students are learning skills that they can transfer back to the classroom , all whilst having fun!

Primary to Secondary Progression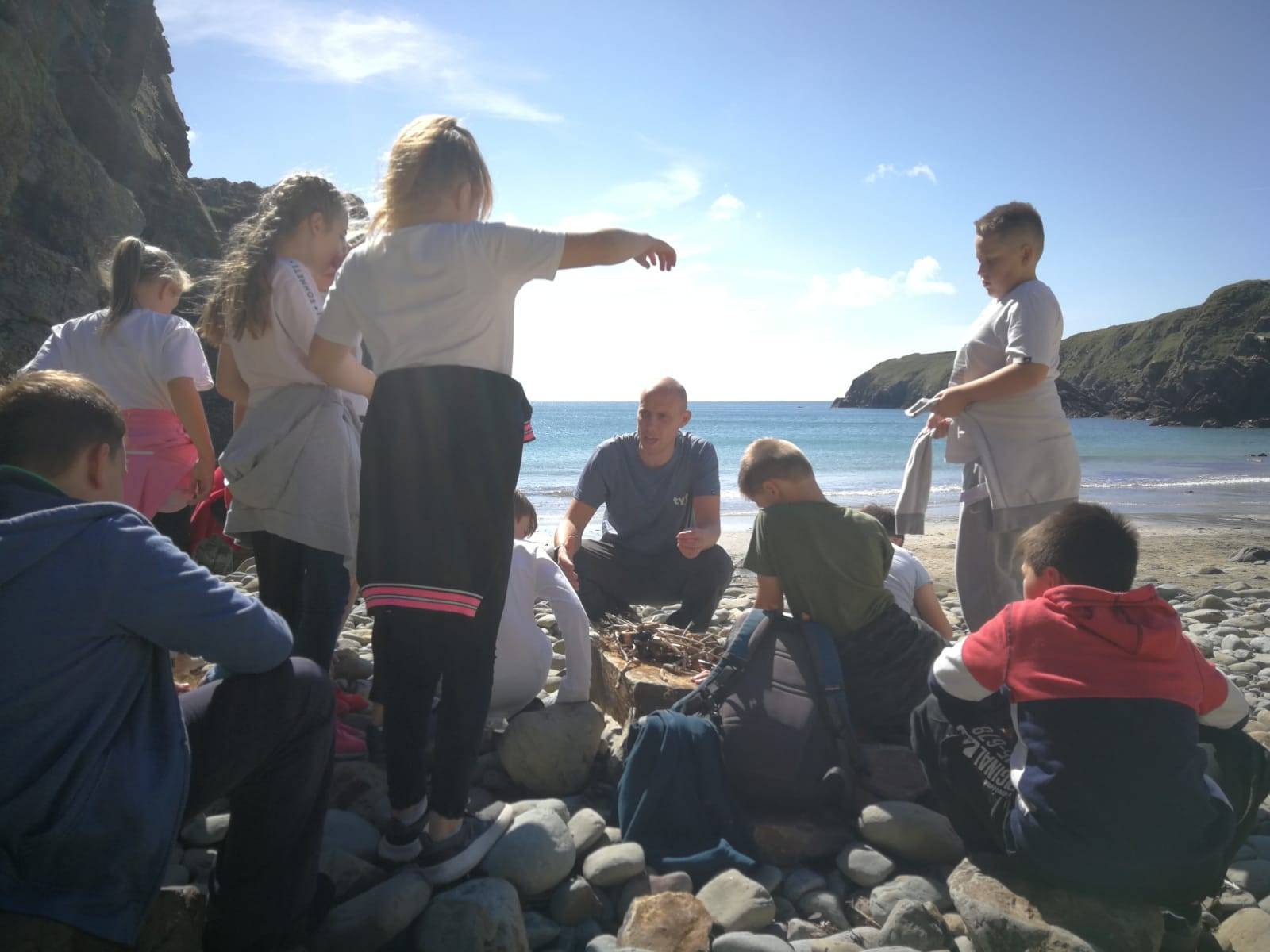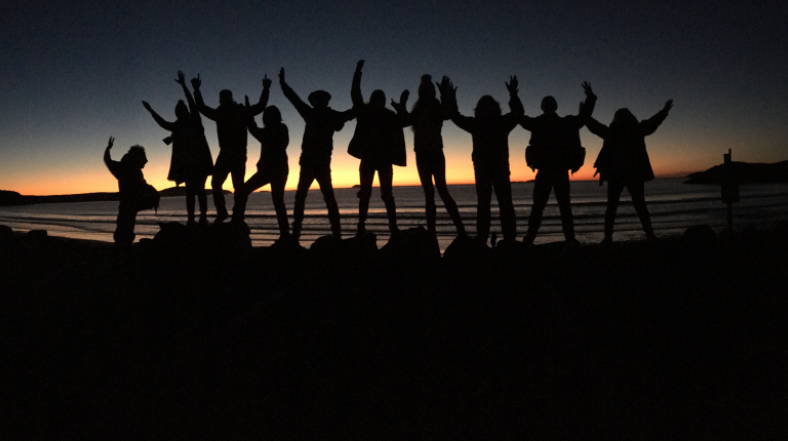 The Secondary School Programmes at TYF aim to support students through their secondary education, enhancing the skills they will be developing through the National Curriculum at KS3 and KS4.
Students will be taken out of the confines of the classroom and immersed into the natural world, as they put their learning into practice in one of the most dynamic environments on the planet.
Subject Specific Programmes
TYF have more than 20 years experience of delivering bespoke programmes of adventure activities to Further Education Colleges and Universities.Students will be immersed in the Pembrokeshire Coast National Park. Adventure activities can either form part of their education (e.g. inspiration for creative writing, geology, or outdoor sports studies), as a team building adventure, or as an end of year reward of pure fun.
Whichever programme you choose, you can be assured of low ratios and the highest quality of leadership and knowledge from TYF guides.

Subject Specific Programmes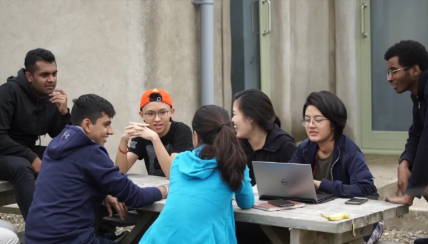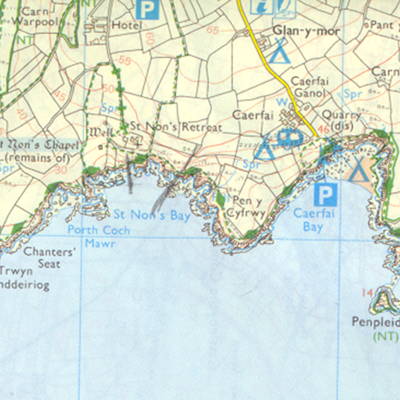 Orienteering
Ranging from a short orienteering course at Pwll Caerog, to a navigation training session equipping pupils with the necessary skills to then go and complete an orienteering course on St Davids Head.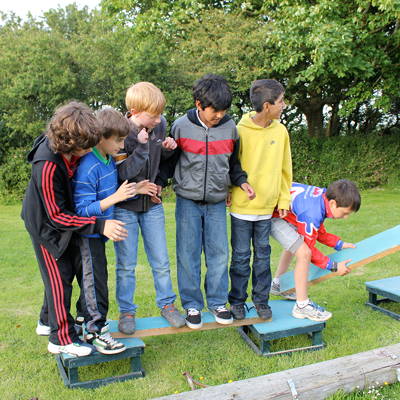 Problem Solving
The team will be challenged to undertake a series of fun and engaging activities involving problem solving tasks and team building challenges. Fun to solve, the activities require full group cooperation and thinking outside of the box. Become risk smart, and develop the Adventure Intelligence skills you need to be a team player and lead others in the future.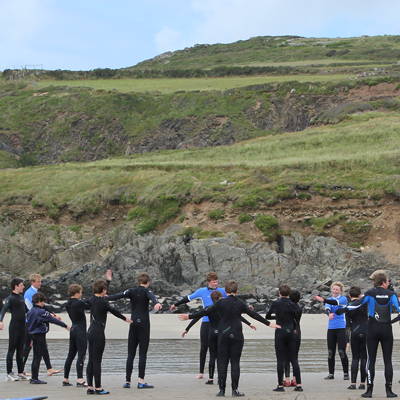 Sensory Awareness
Designed to help pupils connect with their bodies. Using yoga and sensory awareness techniques pupils will learn how the body is made and how it moves.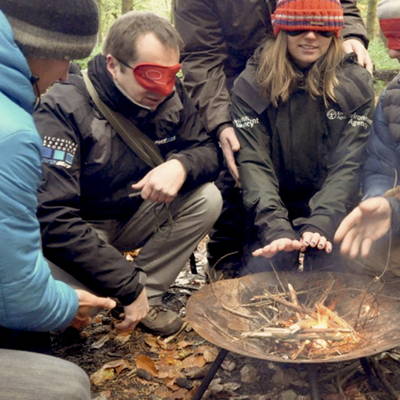 Super Sense
Pupils will be blindfolded then taken on a guided exploration in nature by both visually impaired and sighted guides. A chance for pupils to take in and appreciate information that they might have been missing.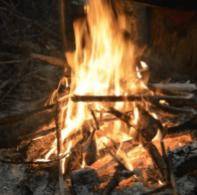 Set the World Alight
Carefully nurtured sparks become the fires on which bold projects are forged and shaped. Set the World Alight teaches the art of fire from scratch using bow drilling, flint and steel, valuing it as a life skill and as metaphor for creativity, growth and impact. Students will make their own fire, knead dough and cook bread twists and use their fire to both set their dreams alight and turn their fears to ashes

The Search
This session starts with an invaluable run-through of practical techniques that help pupils to respond creatively to the challenges we impose on ourselves when making things change. Exercises include juggling (learning through rapidly making lots of small mistakes) and applied improve (learning that everything that happens can be a 'gift' when we treat it that way).

"All activities were great. TYF staff are always friendly and helpful. Their interaction with pupils is outstanding"
Highfield & Brookham School
"The level of professionalism and the range of activities are second to none. Our pupils benefit in so many ways. It's a wonderful time to spend a week following some very serious exams at school, and they continue to learn to work as a team, to master new skills and, in some cases, to conquer their fears.
The favourite activities are always coasteering, surfing, kayaking and rock climbing, and extras, like the visit to the Bug Farm, really add to the experience. We are excellently cared for in our accommodation and the instructors and office staff are super in all that they do. A week we always look forward to - a highlight of the school year!"
"Thank you all very much for the careful attention, supportand guidance offered to my staff and pupils during their visitto St Davids. The lead teacher was gushing in his praise of allyour hard work in helping to make his work as a leader somuch easier and for giving our pupils the time of their lives.
Your professionalism but also your spirit of adventure andfun was appreciated by all and we can't wait to come backnext year.School activity trips are fraught with dangers and risks butknowing TYF offer such a comprehensive support packagemakes it easy for us to market the residential visit to anxiousparents."

Louise Gordon, Director of Sport
"The trip was awesome, the instructorsbrilliant, and the catering yummy - wewere all very happy people!"
Emma Taylor, Headmistress
"The Lower Sixth Leadership TransitionCourse provided by TYF on an annualbasis for our pupils has become not onlyone of the highlights of the pupils' schoolcareers, but one of the distinctivefeatures of our school offering"