1. LCD Screen: shows information about calls, messages, soft keys, time, date and other relevant data.
2. Power Indicator LED: Indicates call status, message status and phone's system status
3. Line Keys: Shortcut keys to dial the associated handset
4. Audio Select: Mute / Headset / Message / Redial
5. Spearkphone: Toggles and indicates the hands-free (speakerphone) mode.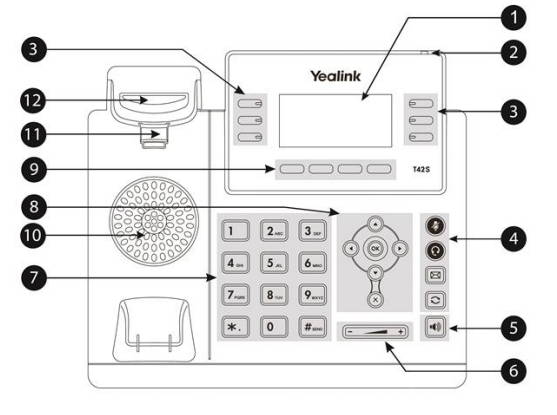 6. Volume: Adjusts the volume of the handset, headset, speaker or ringer.

7. Keypad: Used to dial or numbers or letters

8. Selection Keys: Scroll through the displayed information. 'OK' is used to confirm actions or answer incoming calls. 'X' is used to cancel actions or reject incoming calls.

9. Soft Keys: Selects call log, directory, DND and menu functions

10. Speaker: Provides hands-free audio output
11. Reversible Tab: Used to secure the handset in the cradle when phone is mounted vertically.
12. Hookswitch: Answers or hangs up a phone call.