Your guide to Sustainable & Ethical Shopping
The way we live is not sustainable. How do we change that? This is one of many questions we wrestle with at TYF. Our mission is to help people fall in love with nature and lead long active lives of curiosity, adventure and positive impact. To do this we need to create a world where sustainability is the focus, and how we treat each other actually matters.

We want to make an impact by sharing questions we ask ourselves, tutorials and guides on how you can make a difference. In the future you will see these tools published on our blog, we hope you can find value in these and please feel free to share them with your friends and family. And if you decide to make a change in your life; fixing a tear in your Sunday shirt or asking your favourite brand about their environmental policies please share your results with us, we would love to see your actions and be part of that journey.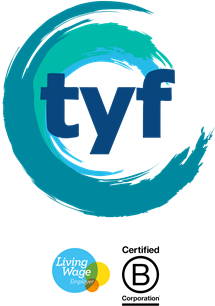 Your guide to Sustainable & Ethical Shopping
This TYF guide will help you become a more sustainable & ethical consumer. You will learn why sustainable fashion is essential, what signs and symbols to look for when shopping, and what questions you can ask of your local shops and favourite brands. We'll also share what other actions you can take towards enjoying a more sustainable wardrobe.
At TYF we acknowledge these issues and want to do our part; we choose the brands we work with by questioning what they do and how they do it. We want to be part of an industry that does good for the planet and for its people. When you visit us, and buy from our shop, you know we've researched all the brands we stock. We continue to monitor their ethics and trading practices and if there is anything we're not happy with we raise it directly with the company. We work hard so that you can shop ethically.
If I'm unsure, what do I look for?
Several independent organisations provide research on transparency and certification that shows what you purchase meets rigorous sustainable & ethical standards. These range from ensuring fair pay for workers, to production without harmful chemicals, to the use of only organic materials.
Below is a selection of logos we look for when buying our stock. Look out for products with these when you are buying new clothes. Unfortunately these don't give us 100% transparency of what is going on in the supply chain of a brand, but it is a first step we can take to become a more sustainable & ethical consumer.



We talk about the ABC's at TYF, the lessons we aim to teach throughout our business to support people falling in love with nature and lead long active lives of curiosity, adventure and positive impact. The lessons below are examples of what we can take into the world of ethical and sustainable shopping.
Aware

Become aware of your shopping habits, materials you buy and what the brands you use stand for and the impact they have on people's lives and the environment.
Brave
Take action… refuse, reuse and repair. Do you have clothes you are not using; can you swap them with someone that might have a use for them, or potentially donate them? Maybe one of your local retailers have a clothes swap shop?
Curious
Ask questions from your retailer and favourite brands, "who made my clothes" and "how were my clothes made" are two great starting points.
Transparency is an important part that we look for in the brands we work with. If they aren't transparent, they might not be 100% aware of what is happening in their supply chain. But what can you do as a consumer to encourage brands transparency?
Every question we ask brands regarding their supply chain and their products, will make it more likely that they will do the right thing. So, when you go shopping, whether it's online or at your local retailer, think of what's important to you and ask these questions. We have a few examples below that our staff consider when they make the decisions on what and where to buy from.
Who made my clothes, and do they get a fair deal?

What is in my clothes, and are they free from toxic chemicals?

Where are my clothes made, and what impact do they have on the environment?

Are my clothes made to last, and can I repair it if it breaks?
Remember the huge impact we have as citizens. How you spend your money can guide both us retailers and the brands to make decisions that you support. Beyond what you buy you can also support organisations that arrange petitions, talks and protests. Fashion Revolution is a great example. Check out their work.
Or what about writing directly to your favourite brand. Remember, as the consumer you hold tremendous power to influence change.
We're in this together, alongside you, if you have any questions or feedback for us then please get in touch. Help us help you, we'd love to hear from you.
---