Coasteering in Pembrokeshire
John Byrom
30th September 2018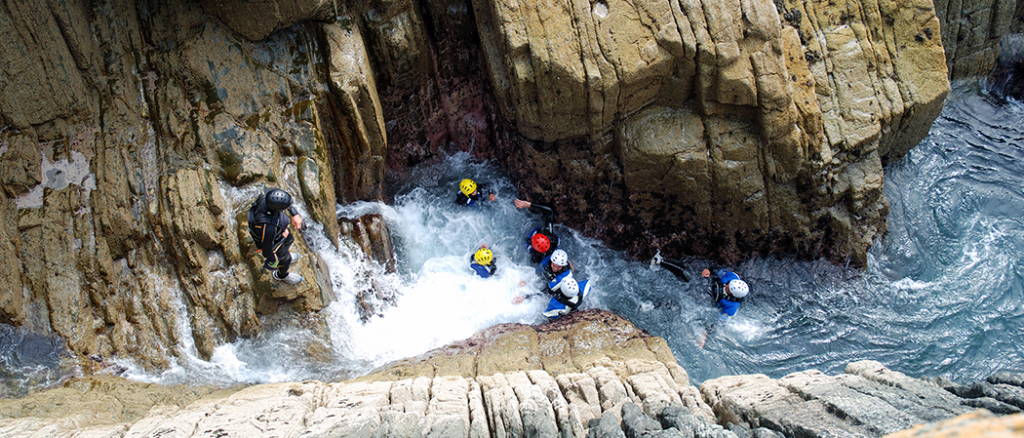 What is Coasteering?

In essence Coasteering is a journey which combines climbing or traversing along the bottom of the sea cliffs, getting swirled around by swelly 'toilets', exploring caves and jumping off cliffs.

Since TYF started the sport of Coasteering in 1986 it has grown rapidly and is now one of the most sought after adventure activities on the UK coast. We estimate that at TYF alone we have taken out over 150,000 people! This popularity and phenomenal growth of the sport is no doubt due to the adrenaline drenched punch of adventure that leaves you craving more.

What can you expect when you go coasteering?
To put it simply, exploring the Pembrokeshire coast where the sea melts into the Welsh shores, which is peppered with stunning caves, stack rocks and channels that holds invigorating adventures for you to push yourself to the limits and enjoy an exciting few hours with your loved ones.
When the weather is calm you can take your time whilst pouring over the swell pools and learning pivotal team work skills with your friends and family whilst taking in the breathtaking Pembrokeshire coastal views that stretches on for miles.
If the sea is a little more temperamental then make sure you're ready for a ride of a lifetime, even seasoned thrill seekers yearn for the stormy sensations only coasteering can offer.Coasteering sessions usually lasts about 3.5 hours, so make sure you eat a proper meal before as you'll need all of your energy for the fun that will ensue.
You can book group sessions too, which is perfect for that family day, school trip or an alternative hen night/business team building activity.
There's something for everyone, whether you want a taste of what coasteering has to offer to a tantalising experience for the keen outdoor pursuit enthusiast with rough and tumble play in the swell pools around St. Davids.
What should I bring?
- Warm clothes to get into after the session
- Old pair of trainers you don't mind getting a bit soggy
- Swimming costume
- Towel to dry yourself off afterwards
- Old shorts to wear over your wetsuit
- Sun tan lotion as you'll be outside
What we'll provide for you:
- Safety equipment
- Buoyancy Aid
- Wetsuit
- Helmet
- Any safety equipment you'll need for your chosen session
- A friendly, professional and highly qualified guide that will make sure you have an incredible experience.
Coasteering is accessible for everyone and you'll gain some incredible memories that will last a lifetime.Sharing is caring, so take some pictures and capture your coasteering adventures and upload them with some of our favourite hashtags and we'll retweet the best ones:#coasteering #stdavids #activitiesinpembrokeshire #pembrokeshire
---